Board of Directors
The Foundation Board is comprised of community leaders with a variety of backgrounds including: banking, investments, accounting, marketing, social services, corporate real estate, small business, education and law. The Board is advised on legal matters through its counsel, Raymond Couture, a noted local attorney who volunteers his time and services.
The Board is responsible for overseeing the preservation and allocation of the funds received. The Board is advised on investments by its financial advisor, Bernard Horn, a senior investment industry executive and by Nelson Burbank, a respected community leader and highly regarded, registered financial expert. Both men generously volunteer their time and services. The Board reviews its investment portfolio each month and meets quarterly with its financial advisors to discuss the financial outlook and ensure the investment mix is appropriate giving the market risks and conditions.
The Foundation works in partnership with the Library Staff, the Friends of the Library and the Board of Trustees.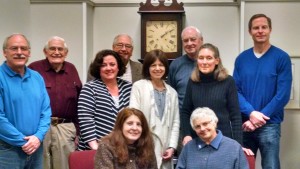 Board Members 2016:
Seated in front:  Elise Ciregna, President, and Maria Silvaggi, Director
Standing, left to right:   Bruce Austin, Secretary; Bob Nordstrand, Director; Amy Coumounduros, Treasurer; Bill Hecht, Vice President; and Directors Barbara Mulvey, Russ Graham, Lynne Cameron, and John Brzezenski

Mission
The Reading Public Library Foundation was established in 1996 to create and manage an endowment fund, the proceeds of which are used to enhance the Library's ability to deliver valuable services to our community. The Foundation has a governing Board of Directors which oversees the preservation of the endowment and annually recommends the transfer of earnings from our investments to the Library. This enables the Library to offer programs, services and events that otherwise could not be offered. Gifts to the Library from the Foundation are not used to replace or in any way substitute for funds provided by the Town to support the Library. Foundation gifts have been used to upgrade personal computers, expand the large print collection, purchase books for all age groups, enhance the media collection, establish a DVD collection, refurbish and update the Computer Lab and most recently, to provide a new sound and projection system for the large meeting room.