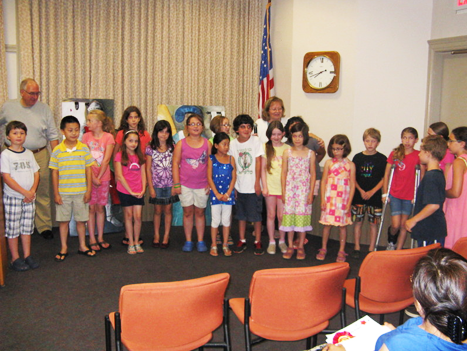 Children's Summer Reading Program
The Library Foundation is pleased to work in conjunction with the Library to bring important programs to the community. We have, for several years, sponsored the Children's Writing and Art Contest which is a hallmark of the Children's Summer Reading Program. Students ages 5 to 11 are able to express their creativity in a contest designed to encourage continued use of writing skills through the summer months. In 2013, an art component was added. Bill Hecht, then President of the Foundation, and Corinne Fisher, Head of Children's Services, are shown here with some recent participants at the ice cream social.
---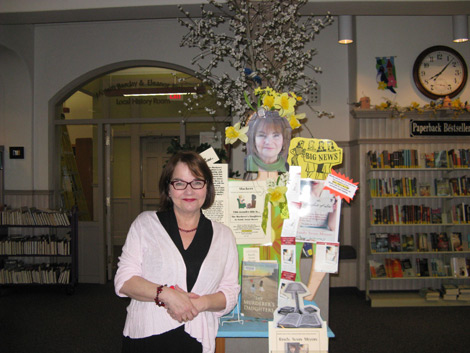 Author Presentations
We are proud to sponsor the appearance of many prize-winning authors whose works are well-known to the reading public. These noteworthy authors and lecturers help the Foundation gain public awareness as well as raise additional funds. We have also joined with the Helen A. Nigro Speaker series for some of these events and are grateful for their support.
The Foundation and the Friends of the Reading Public Library have also jointly sponsored several events. The most recent of these was the 2012-2013 Massachusetts Author Series where 8 local authors, including Randy Susan Meyers (pictured left), spoke about their writing and their work. We also joined with the Friends to support the popular American Voices book discussions, led by Assumption College Professor of English Ann Murphy.
Since 1998, we have enabled the Reading community to hear from many notable people including Roland Merullo, Dennis Lehane, Doris Kearns Goodwin and many others.
---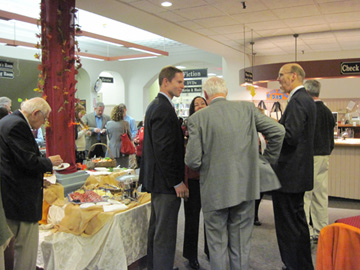 Donor Recognition Event
In November 2013, the Foundation held its third biennial donor reception to recognize those donors who have made significant or consistent contributions to the Foundation. We also honored Russell Graham and Susan Axelson for their exceptional contributions to the Foundation and to the Library.