What is the
Foundation
The Reading Public Library Foundation is a 501(c)3 charitable organization committed to raising funds to support the Reading Public Library. The Foundation has established, and is focused on expanding, an endowment that will provide a long term, sustained source of supplemental funds for the Library. About The Foundation >
---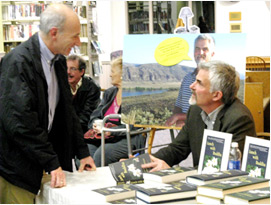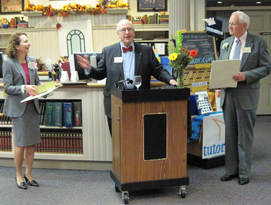 The Foundation Sponsors the Author Series and more
The Foundation has brought a number of noteworthy authors and lecturers to our town, including Roland Merullo (above), to gain public awareness for the Foundation as well as to raise additional funds. We have also joined with the Helen A. Nigro Speaker series for some of these events and with the Friends of the Reading Public Library to support the 2012-2013 Massachusetts Author Series. More about The Foundation's Outreach >
The Foundation honored two outstanding Reading residents who have been involved with supporting the Library for many years. Shown above flanking former Foundation President Bill Hecht are Susan Axelson and Russell Graham at the Foundation's Donor Reception in November.

---
Contact Us
General mail, forms and donations can be mailed to: Reading Public Library Foundation, Inc., P.O. Box 96, Reading, MA 01867. For immediate inquiries, please email the Foundation at rplf96@gmail.com.
Upcoming
Visit the Reading Public Library's website for an update on the Library's exciting renovation and expansion plan. Interested in joining the Foundation's Board of Directors? Contact us.

The Foundation works in partnership with the Reading Public Library Staff, the Board of Trustees
and the Friends of the Library
Top Slider Photos: Linh Green
Website design by Intertwine Media